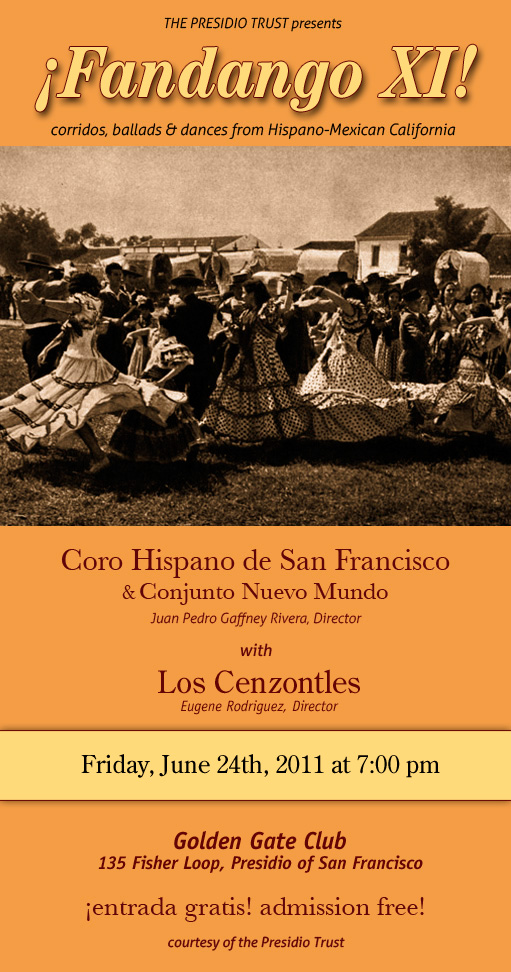 For the eleventh year in a row, Coro Hispano de San Francisco highlights the Presidio's annual celebration of San Francisco's birthday with song that brings to life the Mexican heritage of both City and State.  This is a repertory that enchants your ears, charms your eyes and thrills your heart.
This year, we pay homage to a great woman who has worked hard to make life better for millions of Californians: Dolores Huerta.
We open our program with the premiere performance of a fresh arrangement for chorus and instruments of José Luis Orozco's Corrido de Dolores Huerta, and we  close it with what became one of our most beloved standards, Orozco's spirited Corrido de César Chávez.  In between, honoring Mexico's 200th anniversary and more, we present many new works from Mexican cancioneros and composers, in many moods and many tempi, but all a delight to the soul of all who have one, wherever we're from.
This year, the vibrant energy of Los Cenzontles adds yet more bright luster to our program, with new works in old traditions that will have you dancing in your seats, in beat with the feet of these brilliant young artists from San Pablo.  Eugene Rodriguez's work with the youth of Western Contra Costa County is more than a model of arts eduction to the young: it has produced an artistic ensemble that speaks with an authentic and rousing voice to one and all.  If you haven't heard them yet, now is the time.
Come celebrate San Francisco's 235th birthday with us, and be swept away by good music, good dance, good energy!
Thank you, Presidio Trust, for making this joy available to all, each year!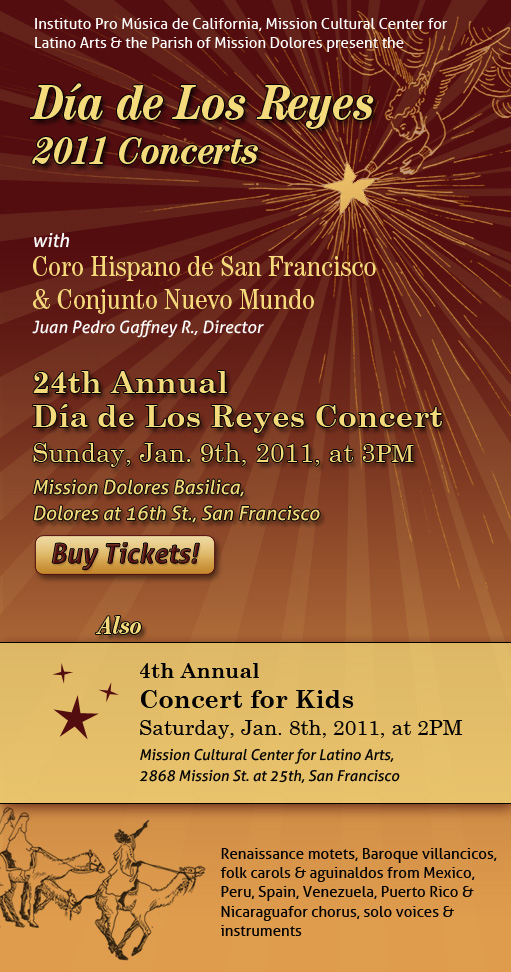 In Latin countries, Christmas does not end on the 26th of December; it remains alive through a whole family of feasts until Epiphany, or "Twelfnight", the day that marks the coming of the Three Kings bringing gifts of homage to the Infant Jesús.Throughout the Spanish-speaking world, this is the day when children traditionally receive and exchange gifts.

In celebration of Día de los Reyes and the entire Nativity season it brings to a close, the Coro Hispano de San Francisco joins with the Parish of Mission Dolores to present its 24th annual program of music composed expressly for the Epiphany Cycle: this year, a tapestry of masterworks by Juan Gutiérrez de Padilla, Juan Navarro, René Rojas, Alirio Díaz and Francisco Guerrero, interwoven with aguinaldos and villancicos from Mexico, Peru, Nicaragua, Venezuela, Spain and Puerto Rico. The program includes a votive hymn sung in Nahuatl to Our Lady of Guadalupe, by the 16th-c. Aztec Don Hernán Franco, and concludes with Carlos Mejía Godoy's ebullient carol Cristo de Palacagüina.

Ever since 1975, Coro Hispano de San Francisco has been thrilling the hearts of all who hear the group in concert with music from all parts of the Spanish-speaking World, from the 12th through the 21st century. Hailed as America's premiere Latin chorus, the Coro has lead the recovery of the choral music of Latin America over the past 35 years. Functioning as both community chorus and professional vocal-instrumental ensemble, the Coro has gathered some of the Bay Area's best early music specialists to work in consort with Latin American folk musicians equally renowned in their own spheres. This season, Coro will be joined by sopranos Mimi Ruiz and Cecilia Engelhart López, contraltos Claire Giovannetti and Jillian Picazo, tenors Mark Hernández and Jesús Guillén, bass David Varnum, and accompanied by violinists Gerardo Moreno, cellist Javier Rosas, contrabassist Jay Soule, guitarist Ricardo Flores, and percussionists Connor Irías and Mario Cabrera. Both ensembles are under the artistic direction of founding director Juan Pedro Gaffney Rivera.