Música Criolla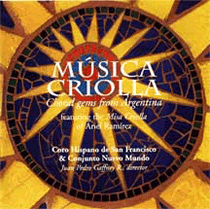 For many, Ariel Ramírez' Misa Criolla needs no introduction.  Ramírez wove into his score the rhythms, melodic modes and instrumentation of the Andes, producing a work at once spiritually exalting and deeply rooted in the folk idiom of his people.  The work is simple in its architecture, subtle in detail, vibrant in its colors, and direct yet profound in its emotional power. Coro Hispano's recording of the work exquisite: at once intimate and emotional.
An ideal foil to Ramírez' masterwork, the CD also contains Oscar Bareilles' brilliant choral triptych Flor de  Chañar. Setting folk poems of love, it also draws deeply from the rhythms and melodic modes of the people of Argentina. 
Finally, Ramírez' six-movement Christmas suite Navidad Nuestra is a long-standing favorite of Coro's audiences: it was the principal work in the group's premiere concert in 1976.
Música Criolla: Choral Gems from Argentina  is a CD you will listen to over and over again.