Coming up
june 2010
¡Fandango X!
Friday, June 25th, 7:00 PM and Saturday, June 26th, 7:00 PM at the Presidio Officers' Club,
50 Moraga Avenue at Argüello,
San Francisco Presidio.
Admission free,
courtesy of Presidio Trust
donations welcome
Help Save Coro
Coro is in truly dire straits.

To help Coro survive, Angela Alioto has graciously offered to host a fundraising tardeada at her home on Sunday afternoon, June 28th. To learn more, please contact or write to us at info@corohispano.org. You don't need to attend a tardeada in order to donate to Coro; you can do so right now, online secured, by clicking here; but if your Sunday afternoon is free on June 28th, I can't think of a more fun way to donate to us. And mile grazzie, cara Angela!

Ramillete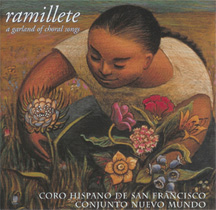 flowers from field & garden:
a garden of choral song
from Spain & Latin America
This release, Coro Hispano's third on CD, presents a varied and exciting sampling of music for voices and instruments from the cathedrals of Puebla, Lima and Sevilla, the ranchos of early California, the plazas of Veracruz, the rain-forest missions of Paraguay, all the way to the mountain villages of Nigeria. Brilliant vocal solos and on-target instrumental work by some of the West Coast's leading names in early music combine with foot-stomping Veracruz zapateados and robust, ranchera-style singing in this sampler from a half-dozen different concert programs.
If Mexican Baroque has caught your ear, this wide-ranging anthology of choral music from Mexico, Central and South America is a must; it's got Latin American Renaissance, Baroque, Classic, Romantic and folk-originate works in a rich array of texture, styles and sonorities, from chorus-orchestra down to voice-and-guitar.
To order Ramillete or any of our CDs in print, access our online store

Música Criolla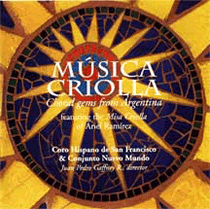 For many, Ariel Ramírez' Misa Criolla needs no introduction.  Ramírez wove into his score the rhythms, melodic modes and instrumentation of the Andes, producing a work at once spiritually exalting and deeply rooted in the folk idiom of his people.  The work is simple in its architecture, subtle in detail, vibrant in its colors, and direct yet profound in its emotional power. Coro Hispano's recording of the work exquisite: at once intimate and emotional.
An ideal foil to Ramírez' masterwork, the CD also contains Oscar Bareilles' brilliant choral triptych Flor de  Chañar. Setting folk poems of love, it also draws deeply from the rhythms and melodic modes of the people of Argentina. 
Finally, Ramírez' six-movement Christmas suite Navidad Nuestra is a long-standing favorite of Coro's audiences: it was the principal work in the group's premiere concert in 1976.
Música Criolla: Choral Gems from Argentina  is a CD you will listen to over and over again.